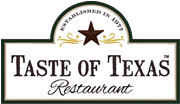 TASTE OF TEXAS EMPLOYEE NOTIFICATION SIGN-UP & CALENDAR
* Please note that you are responsible for all phone carrier charges incurred as a result of email and text messages sent to you from the Taste of Texas and all phone carrier charges incurred as a result of viewing/syncing with the Taste of Texas calendar. *
Text and Email Blasts
To receive notifications from the Taste of Texas (TOTnotify@gmail.com) via cell phone and email, please fill out the form located here: http://goo.gl/forms/g2VwfZJMxU.
The form is viewed best through the Google Chrome web browser. Internet Explorer may not show the page well.

Calendar
The Taste of Texas has created a calendar showing major holidays, important dates, and staff events, such as Beef & Beans.
An html version of the calendar that can be viewed in web browsers may be accessed here: https://calendar.google.com/calendar/embed?src=totnotify%40gmail.com&ctz=America/Chicago
And, you may sync the calendar to an iCal-enabled mobile device. To do so, follow these instructions:
Important Note:

If, in following these directions, you are ever asked to add a long list of events to a calendar, do not accept. That will simply add the events to your personal calendar but not sync with any changes made. Instead, you need to subscribe to the calendar.
To sync the calendar on an Apple iPhone:

Go to "Settings."

Click on "Mail, Contacts, Calendars."

Under "ACCOUNTS," click on "Add Account."

Click on "Other."

Under "CALENDARS," click on "Add Subscribed Calendar."

In the "Server," field, copy and paste the following:
https://calendar.google.com/calendar/ical/totnotify%40gmail.com/public/basic.ics
Click "Next."

Click "Save."

To confirm you have successfully subscribed:

Open the "Calendar" app.

Click on "Calendars."

Scroll to "SUBSCRIBED."

Ensure that there is a check next to "totnotify@gmail.com."

Note: The color of the dot indicates the color of TOTnotify events on your calendar. To change the color of the dot, click on the red "i" within the circle. On that page, you can also remove "Event alerts" if you would like--removing alerts, however, is not recommended.
For instructions on using iCal calendars with an Android device, it appears you will need to download the Google Calendar app and create a Google account, if you do not already have one. Adding the calendar is then done online through a computer rather than through the app. For detailed instructions, click on "Add using a link" on the page below:

In step 3 of the instructions, use the following URL:
https://calendar.google.com/calendar/ical/totnotify%40gmail.com/public/basic.ics